Is there an ideal time to schedule roofing repair services in Allentown? As a homeowner, you want to schedule needed roof repairs at the first sign of damage, before those needed fixes get more extensive and costly. However, you might also be wondering if you can save some money by choosing a certain time of year for those repairs!
The best time to schedule roofing repair services in Allentown is as soon as you can afford those fixes and a roofer can fit you into their schedule, but many roofers offer discounts for off-season services. You also want to avoid repairs in weather that might interfere with roofing materials.
While an off-season discount might sound appealing, it's also vital that homeowners avoid scheduling needed roofing services when the weather won't support proper repairs. You also don't want to put off those repairs too long, as this can mean even more costly damage!
To ensure you're keeping your home in excellent condition but enjoy as many savings as possible, note a few quick tips for scheduling needed roofing fixes. You can then discuss these with an Allentown roof repair contractor as needed.
The Best Temperature for Roofing Repair Services in Allentown
While wintertime isn't ideal for working outside, some homeowners might not have a choice but to schedule roof repairs or replacements during colder months. If a tree falls on your home in mid-February or the roof caves from the weight of snow and ice, obviously you can't wait until springtime to schedule needed fixes!
If you do have a choice for when to schedule needed repairs, however, note that roofing adhesives and other materials don't typically perform in overly cold temperatures, or anything lower than about 40 degrees Fahrenheit. In some cases, installing new roofing materials in overly cold weather can even void their warranty.
Even if the weather isn't freezing, colder temps can make roofing more difficult overall. Asphalt shingles lose some of their pliability when they get overly cold, making them difficult to cut and nail to the roof decking. Improper fastening is not uncommon during colder months! (see https://4kexteriors.com/is-it-too-cold-to-roof/)
The best temperatures for roofing repairs and installation are between 70 and 80 degrees Fahrenheit. This typically means late spring or early fall, or during summer but when the weather is relatively mild. These temps will ensure roofing materials perform as expected, for maximum efficiency.
Can You Save Money With Off-Season Roofing Repair in Allentown?
Some contractors will offer discounts for off-season roof repairs; an off-season might be in early spring or late fall when the weather isn't necessarily freezing but still a bit unpredictable! Most homeowners are just assessing their home's maintenance needs in springtime or have finished those repairs by the time fall rolls around, so roofers are often less busy and might be willing to give a discount for services during these times.
That being said, use caution about extremely low bids for roofing no matter the time of year. Some roofers might realize that overly cold or damp weather interferes with roofing adhesions and materials and offer a lower price because of this risk, but no discount is worth having a poor-quality roof repair job. Some roofers might also be cutting corners with roofing and offering a lower price because of using inferior materials, and not because it's their off-season.
If you're considering managing roof repairs yourself, use caution when it comes to overly damp weather. Exposed decking and other materials absorb moisture easily, risking wood rot and other damage. It's vital that you keep the roof covered as you work, to protect it against potential damage.
Never Put Off Needed Roof Repair in Allentown!
One vital tip when planning roof repairs is that you don't want to put off those needed fixes. The longer you ignore cracks, chips, gaps, missing shingles, and other damage, the more extensive and costly that damage can become, and the more you might pay for eventual repairs.
Gaps in a roof also risk damage to the decking, underlayment, and even the home's framing. Letting moisture into the home through those gaps also risks mold growth, water stains along the ceiling, and even cracked and crumbling ceiling tiles. While you might be tempted to save some money by putting off needed roof repairs until the off-season, consider if that might actually cost you more money in the long run!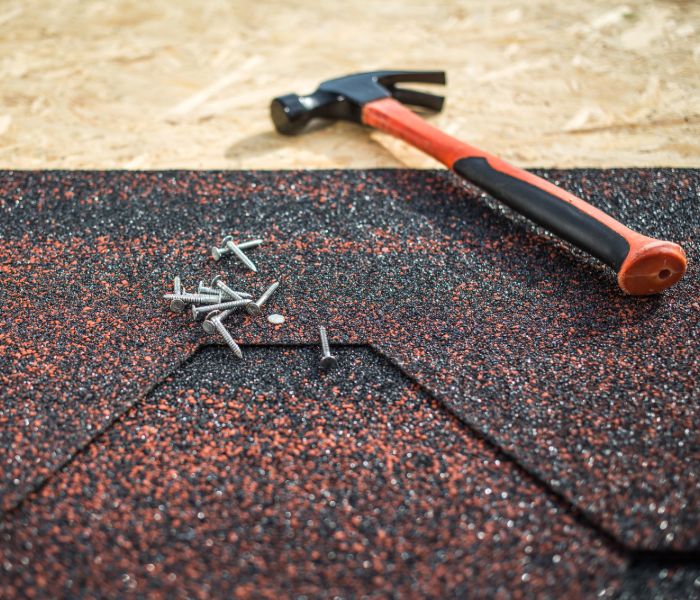 The Allentown Roofers is happy to bring this information about the best time to schedule roofing repair services in Allentown, and hopefully, you found it helpful! If you need roof repairs or a new roof installation, turn to our trusted Allentown roof repair contractors. We have over 20 years of industry experience and guarantee all our work. To find out more, use our contact form or call us today.